System in Package (SiP)
개별 칩들을 단일 패키지로 결합시킨 초박형, 고집적 토탈 패키징 솔루션입니다.
nSiP Solutions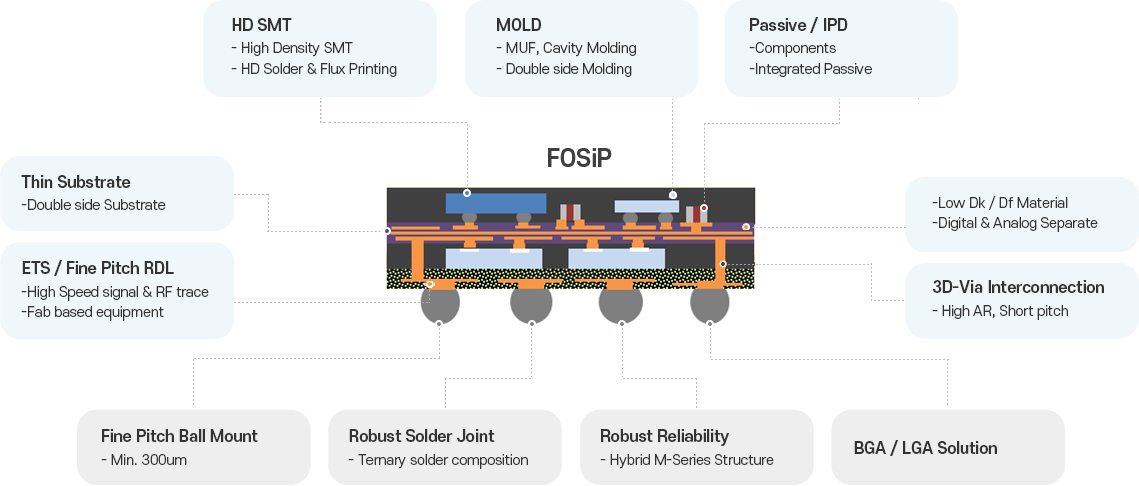 SiP is wafer level & chip last(RDL first) based System in Package solution where multi RDL & double side mounting is possible.
nSiP(nepes SiP) offers more compact & slimmer feature compared to substate base SiP
Product View
VALUE
FC & High I/O FC
2D
3D system level
xfBGAn
nSiP_2.xD
RF-SiP
AiP
SL-nSiP
power module
Product View
Advantages

Extremely thin profile up to
0.3mm thickness

No limited fan out routing ratio

2.3D RDL interposer & 2.1D RDL
substrate packaging solution for
high I/O application

Ultra high density extreme thin
profile FOSiP solution with proper
EMI shield

mmWave & Cm scale antenna
integrated packaging

3D analog and digital function
integration thru active IC
embedded technology

Thermally enhanced high
performance FOWLP(Including
FOSiP)

Features

Thinner profile & Minimum Footprint

Cost competitive solution

High yield & Turnkey solution

Thinner substrate with higher I/O
counts

Large body with warpage
controllable RDL build-up interposer

Multiple active electronic
component with with different
functionality in a single unit

Multiple functions associated with
system or sub system

Package-level antenna integration

Small form factor & design
flexibility with PKG level antenna

Improved electrical performance
by direct connection

High I/O capability and small form
factor

Reduced cost by replacing carriers
with metal plate

High input/output current
capability by thick RDL

Application
Communication Consumer, Automotive, Industrial,
(RFFE, Wireless connectivity, mmWave, Wearable, Sensor, Power, IoT)
nepes corp.
Address충청북도 청주시 청원구 오창읍 과학산업2로 587-32
Tel043-240-8500(내선2번)