Advancing towards
the global
electronic

materials

market

As a joint venture of global leading Belgian transnational chemical company Solvay Group and nepes, iridos is a nano material company that researches, develops, and produces colorant and color paste that create natural colors based on nano technologies.
What is color paste?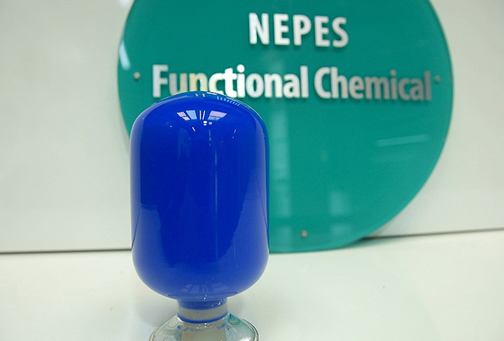 As a product produced through the distributed processing of pigments for color filters-added dispersant, it is the main ingredient of color resist and the most important material in deciding the color expression quality of TFT-LCD.
Main Product
Color Paste for TFT-LCD Color Filter
Dispersed liquid with red, green, and blue pigments dispersed into nm size in solvent A core material for composing the color filer of LCD, which plays the role of coating the white light of the backlight with colors after forming RGB patterns with photoresist

Black Paste for TFT-LCD & TSP (Touch Screen Panel)
Dispersed liquid with black pigment dispersed in solvent using dispersion resin A core material to compose TSP Bezel, LCD BCS, etc. Carbon black characterized by OD and high resistance is applied to TSP Bezel, and organic black characterized by OD and low-k is applied to LCD BCS.

Category
Application
Product
TSP
Bezel for OGS
(one glass solution)
TSP (G2)
High-resistance carbon
Black paste
TFT-LCD
BCS (BM & Column
spacer) for TFT LCD
Low-k dielectric
Organic black paste
CBlack Paste for TFT-LCD & TSP (Touch Screen Panel)
As a core electronic material to create images on LCD, it has a gamut of high colors including color purity, penetration ratio, and contrast, thermal resistance, light stability, and chemical resistance. Localization of blue and violet pigments among the color filter colorants that used to be imported only was carried out led by the R&D center.
Blue Pigment Primary Particle Size⇒30~40nm Violet Pigment Primary Particle Size⇒ 25~30nm

Category
Application
Product
TFT-LCD
Mobile/Note PC/Monitor used
Color Paste
High-transmission product
Smartphone/ Tablet PC
High-luminance, high-dynamic range product
Hybrid product
LCD TV/ WOLED TV
iridos
Onsan Factory (Headquarters)
Address100 Ijin-ro, Onsan-eup, Ulju-gun, Ulsan
Tel+82-52-240-0900
Ochang Factory
Address176 Gwahaksaneop 3-ro Ochang-eup, Cheongwon-gu, Cheongju-si, Chungcheongbuk-do
Tel+82-43-240-0958